VBS3 Selected as the Defence Virtual Simulation Solution for UK MOD
Farnborough, UK — Bohemia Interactive Simulations (BISim), a global developer of military training and simulation software, announced today that the UK Ministry of Defence acquired an enterprise licence of the company's flagship software Virtual Battlespace 3 (VBS3) as the UK MOD's Defence Virtual Simulation (DVS) solution.
DVS will be the UK MOD's common virtual simulation tool to provide interoperable, accessible and deployable virtual simulation capability across the MOD. The DVS capability will enable simulated activity across all levels of training, including live and virtual simulation, education and experimentation.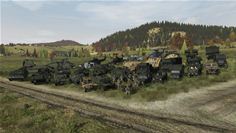 VBS3 selected for DVS
"Our association with the MOD began in 2007 with their acquisition of an enterprise licence for VBS2, and we are very pleased to continue this association by now providing our VBS3 software that is used for military training the world over," said Rusmat Ahmed, BISim's vice president of sales in EMEA. "By investing in DVS for UK Defence, MOD brings UK expertise to the very active group of European and Allied countries using VBS3 for training, as well as benefitting from the pool of international innovation and best practice of VBS3 users."
Virtual Battlespace 3 (VBS3) is a comprehensive desktop training package and simulation host based on commercial video game technology. Simply load VBS3 onto a PC and use the supplied tools and models to set up a scenario and start training. Shaped and refined by over 10 years of customer feedback, VBS3 is the de facto standard in game-based military simulation and meets hundreds of training use cases. For DVS, VBS3 will support a wide range of domains for training including mounted and dismounted land, naval vessel, fast air and rotary wing for both individual and collective tasks.
John Brookes, Joint Training Section Deputy Head within the Soldier Training and Special Programmes team at the UK MOD's Defence Equipment and Support, said that, "VBS3 software is exceptionally capable and fulfils a large and diverse range of our simulation requirements for individual and collective training, experimentation and force development. The software's new role…